Blue plaques historical walk

Blue plaques historical walk

– September 2014
This is a walk around 20 historical sites in Thirsk and Sowerby marked by blue plaques. These record important buildings or people associated with our town. The walk takes anything up to 1½ hours.
A leaflet with a map and historical notes on all 20 blue plaques is available in the Tourist Information Centre and downloadable here.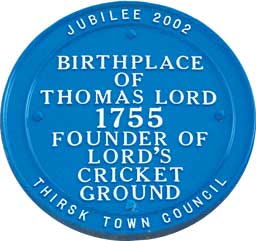 The walk forms part of a larger interpretation scheme that documents the history of Thirsk and Sowerby for both visitors and residents. In addition to the blue plaques, there are 15 interpretation boards and are described in a separate leaflet, available from the Tourist Information Centre.
Starting from the Tourist Information Centre the trail covers sites in and around the Market Place with others in Thirsk and Sowerby. Fingerposts help you get around. lt should take about 90 minutes to do the whole walk but this could be shortened by visiting only the town centre plaques. The walk is on the level and is suitable for all ages.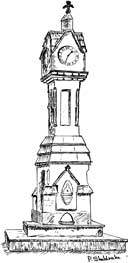 On completion of the walk enjoy a refreshing drink in one of the many coffeeshops or public houses – or maybe do a little shopping.
Whilst enjoying this trail take the opportunity to look at other important buildings in Thirsk and Sowerby. St Mary's Church in Kirkgate is an outstanding example of Perpendicular Gothic architecture retaining many of its original mediaeval features.
Thirsk has a traditional market square built for defence in mediaeval times, hence the sharp bends in the roads leading into it. Most of the buildings around the square now reflect Georgian architecture.
Our most recognisable landmark is Thirsk Clock. Built in 1896 to commemorate the wedding of the Duke of Yorkand Princess May of Teck, who later became King George V, and Queen Mary (the drawing is by one of the TIC volunteers).
Dating back to 1140, the Norman church of St Oswald's in Sowerby has been altered over the years to reflect the changing needs ofthe local population.
Other pleasant areas include St James Green, the Holmes and Sowerby Flatts. See the fingerposts for directions.